What a cute idea from Cynthia at
2nd Grade Pad
! I have to admit I have never heard of Boo, but it sounds like a really sweet idea! I have copied Cynthia's information.......
You've probably all played the popular game BOO at school where you leave a ghost on someone's desk or mailbox along with a treat. Let's do the same by sharing some love from our stores...
Here's how to play. Choose a fellow blogger that has MORE followers, another that has about the SAME number of followers, and last, someone that has LESS followers.
Highlight their blogs with links to encourage others to check them out. Don't forget to let your fellow bloggers know that you shared about them.
Lastly, leave them some love by offering them a goody from your store as their "treat."
~~~~~~~~~~~~~~~~~~~~~~~~~~~~~~~~~~~~~~~
I'm struggling to choose just 3 blogs as there is such a wonderful supportive community out there, with talented teachers who all have something special to share. Amazingly many have thousands of followers already!
Anyhow, with lots of umming and ahhing - here are my three - just click on the pics to check out their blogs.
Mrs S. (I think!) at the Peanut Gallery
I chose The Peanut Gallery as I love reading her posts. She writes with such attention to detail and with such passion for her vocation, that I always finish reading with a smile on my face! An extra small reason is that we are roughly the same age, which makes me feel better, as the blogging world seems to be full of twenty somethings, full of energy - hehe!
Same followers approx!
Tammy at "Dots of Fun Clip Art
I chose Tammy because I love her clip art and she is always sharing it! She was so excited about her new venture into the clip art world and has built up a following really quickly - well deserved!
Mrs Poultney at Mrs Poultney's Ponderings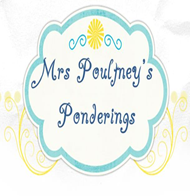 I chose Tania at Mrs Poultney's Ponderings because she is Australian! I love the fact that sharing teaching ideas is truly international and I enjoy noting the differences and similarities. Love a good read too! Australia is one of my dream places to visit.........

Thank you ladies for all you share - please check them out and show them some love!

Wishing everyone a great week ahead. :)