Yikes, I know - I have been a very naughty blogger! It's been sooo long since I posted! It's either a feast or a famine with me! I seem to have been so busy lately and I know it's only going to get worse the closer we get to Christmas - it must be the same for everyone else?! Does anybody actually get to sit down once the kiddos arrive in class? I keep thinking I'm on top of things, then I add more to the list - I'm thinking bulletin boards, Christmas crafts, Christmas concert and squeeze in some curriculum too - lol! ......I so love this time of year, but boy, is it hectic!
Are you all geared up for the big sale? My shopping cart's been filling up these last couple of weeks - just have to take advantage of the great discounts!
I'm linking up with Michelle at The 3am Teacher to share loads of links to some super stores for you to check out!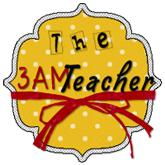 You might want to have a look my most recent additions - I've been going a bit mad with Clip Art - having lots of fun!
I've also just added my newest pack - Sight Word Practice. When checking out the preview, don't forget you can zoom in for a closer look!
Don't forget my freebie digital papers too!
I hope all my American friends have had a wonderful Thanksgiving and are enjoying a well-deserved break! You'll need your strength to fill your shopping cart with lots of wonderful TpT bargains!
Thanks to everyone for all your continued support as I blog and build up my TpT store - it's appreciated more than you'll ever know!
Have fun at the sale!